Premium Saltwater Charters
Why Tofino Fish Guides?
Comfort and stability

Our 27 foot Pursuit vessel is build to yacht grade standards insuring a smooth and stable ride on the open ocean. Flush toilet, back rest seating for up to five. Quiet, clean twin 200 four stroke engines power the boat.
Your safety is important to us
Our vessel is Transport Canada Blue decal certified and registered as a small commercial vessel. Guides Derek Fraser and Lochie MacKenzie are highly experienced in the Tofino area. The Red Sky is equipped with radar, a life raft, and auto inflate collar life jackets are available.
Premium fishing equipment
Enjoy fishing with well maintained rods and reels of the highest quality available.
Islander
and
Avet
reels,
Shimano
and
Sage
rods. Rain gear is available upon request.

Experience and commitment
The 27 foot "Red Sky" is our first boat out. Additional boats are available. The guides we work with are the finest in the area, experienced fisherman, boat owners, and year round residents of Tofino.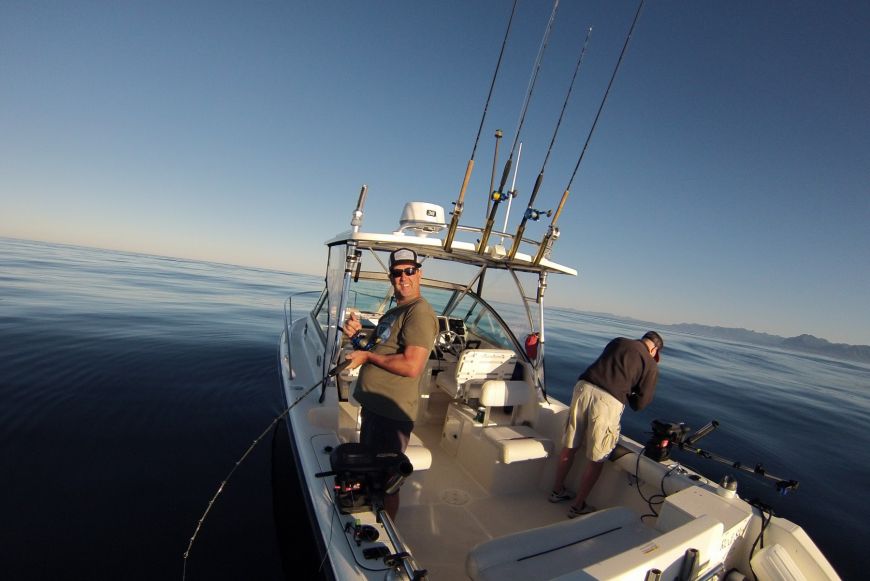 Full or half day?
A full day charter offers the opportunity to spend ample time trolling for salmon and jigging or trolling for halibut, or gives you more time to focus on one species. Having the whole day also ensures that your group will have the advantage of fishing through at least one slack tide and often two. Half-day charters are a good alternative and provide fantastic action. It is always nice to fish the morning bite, but for those who don't care for early mornings while on holiday, an afternoon trip can provide excellent action.
Family friendly -
Children 15 and under fish free when accompanied by an adult.
If you would like to book a charter please email us at info@tofinofishguides.com and include preferred date(s), First and last name, email, cell (optional). We will then email you a receipt with deposit and total amounts. We can also be reached at 250.266.0587

November 1 - May 14

April and May are excellent bottom fishing months, February - early May is prime Spot prawn season. Prawns, crab, winter Chinook salmon year round.
8 hour charter
1-2 People - $1200
3 People - $1200
4 People - $1300
5 People - $1400

6 hour charter
1-2 People $995
3 People - $995
4 People - $1050
5 People - $1100

4 hour charter
1-2 People $750
3 People - $750
4 People - $800
5 People - $995
May 15 - June 14 and October 1 - 31

Great bottom fishing - Chinook in spring, Coho in October
Full day charter
8 - 10 hours
1-2 People - $1400
3 People - $1400
4 People - $1400
5 People - $1600

Morning charter
6 hour
1-2 People $995
3 People - $995
4 People - $995
5 People - $1100

Afternoon charter
5 hour
1-2 People $850
3 People - $850
4 People - $850
5 People - $995
June 15 to September 30

Albacore tuna trips available August 10 - September 20. Max 3 guests, full day charter, $500 add on.
Full day charter
8 - 10 hours
1-2 People - $1600
3 People - $1700
4 People - $1800
5 People - $2000

Morning charter
6 hour
1-2 People $1100
3 People - $1100
4 People - $1200
5 People - $1300

Afternoon charter
5 hour
1-2 People $875
3 People - $875
4 People - $900
5 People - $1000
NO FUEL SURCHARGE
We accept Visa, MasterCard and American Express
Government sales tax (5%), personal fishing license, optional gratuity not included
1% donation to match Tofino Fish Guides in contributing to the Tofino Charter Fishing Fleet - 1% for the fish campaign. All contributions go to local salmon enhancement and stream restoration.
1% reconciliation donation to local First Nations community initiatives
Prices in Canadian dollars
Full day and morning charters depart at 6am/ afternoon charters leave the dock at 1pm
Bait and tackle included
---
Pre-trip information
What to bring
Personal Fishing License and salmon stamp - can be purchased online at the Department of Fisheries and Oceans website. Please print your license and bring it with you on your charter. *Electronic copies are not valid.
Food and Beverages - You are welcome to bring food and beverages of your choice. RedCan Gourmet lunches can be ordered by calling 250.725.2525
Layered clothing - It is better to dress warm, as it is often cooler on the water.
Rain gear - Always important in Tofino, please bring it if you have it. Some hotels offer rain gear. If you are in a pinch we can provide it.
Sunscreen and sunglasses
Seasickness medicine - If you are concerned about motion sickness, we find the best approach is to take a motion sickness med before bed the night prior to the charter and a second one in the morning. This seems to produce the best results.
Please avoid wearing hiking boots or shoes with heavy marking soles. It's OK if that's all you brought. Thanks!

Where to go
Saltwater charters depart from the Trilogy dock and the Tofino Resort and Marina in Tofino British Columbia. Directions are as follows: Enter Tofino on Hwy 4 (known as Campbell Street in town) turn right at the Tofino Resort and Marina/ 1909 Restaurant/ The Hatch Pub, (Just before the Long Beach Surf Shop) go down the steep hill and keep left at the bottom into the Trilogy Fish Company parking lot, right for Tofino Resort and Marina. Slip 9A down the ramp by the pub at TRM.
630 Campbell Street Tofino, British Columbia
---
Fish processing
After your charter your guide will dress your salmon and halibut and can prep dinner fish.
Fish that will not be enjoyed in the first few days should be properly prepared for storage; cryo or vacuum packing prior to freezing is essential to maintain the exceptional quality of your catch. If you are set up to process your own fish, that is fantastic, if not Naas dockside seafood offers professional fish processing directly off of the dock. Once processed, transport the fish in your cooler, if you don't have one Naas can supply one for you.
Naas
dockside shop and processor (replaced Trilogy fish company)
Naas is a locally owned fish processor, seafood shop, and Kelp product shop.
Fillet and portion, vacuum packing, flash freezing services
Pick up in your own cooler, Naas provides cooler, Naas can pack for air travel, shipping available.
2022 Naas pricing
2.75/lb finfish/groundfish (everything but Tuna) on dressed fish (cleaned head on)
0.60/bag
3.25/lb Tuna, whole fish
0.6/bag
Shipping is available for $75 handling fee (includes air to Vancouver) plus cost from carrier fees from Vancouver to anywhere withing Canada and the United States
St Jeans Cannery
Good option for smoking and canning, alternative for fresh pack.
Depot is at Tofino Resort and Marina, sent to Nanaimo to process, shipped from there to your home/business. free pick up is available from St Jeans stores.
St Jeans website
---
the Fish
Chinook Salmon
Often called Springs or King Salmon these powerful fighters are the target species of choice for most of the season. Chinook can be caught year round in the Tofino area, they are great fighters and fantastic table fare. Abundance varies daily and weekly as fish runs move down the coast often feeding for extended periods in the waters near Tofino. Typically peak numbers are in the Tofino area sometime between June and August. Chinook are the largest of the five Pacific Salmon species.
Halibut
These tasty bottom fish can be caught in the offshore waters throughout the fishing season. After spending the winter in deep ocean waters Halibut move up onto the continental shelf to spend the spring and summer feeding. Late spring and early summer can provide some of the best halibut fishing opportunity, however good fishing can be had through out the season.
Coho Salmon
Coho provide us with some fantastic surface activity and are a real thrill when hooked on a fly rod or light tackle. Often beginning to show up in late June, Coho fishing heats up as the summer progresses. Coho or Silvers are renown for spectacular acrobatic behaviour once hooked. Sound good? Have a look at our Saltwater fly-fishing charters.
Spot Prawns
A west coast delicacy! Winter and spring are the best times to pull the prawn gear. A fantastic way to get out on the water even when the weather is not at its best. Travel the fjords of Clayoquot Sound and reap the bounty of the deeps! Calm waters and stunning views make prawning a great way to get your family on the water.
Lingcod and rockfish
These great tasting whitefish provide some great hands on action. We can get a taste of the action in several different fishing zones but if you really want to hit it book a full day and we will head to the western offshore reefs.
Albacore Tuna
During August and September a warm water current moves up from the coast of California to sit in the deep water trench off of Vancouver Island. This current brings with it Albacore Tuna, a fish that in recent years has gained a reputation as not only a fantastic game fish but as a sustainable and healthy food choice. When the tuna current is with in striking distance and weather conditions allow us to travel well offshore, Albacore Tuna can provide anglers with a high octane blue water experience right in British Columbia.
Dungeness Crab
Excellent crab fishing can be had in the immediate area. Fun for the whole family, or an added extra at the end of the day, pulling the traps is always entertaining. Please ask about crabbing in advance so we can have the traps ready!
Cutthroat trout and Steelhead
Catch, photograph, and Release these fantastic sports fish on one of our remote freshwater trips.